Your mental health matters to us.
Noticed a change in your mood, appetite or energy level lately?
Trouble concentrating or not sleeping well?
Need a new perspective?
From daily stresses to major life changes, and everything in between, we help you find positive ways to cope. Connect with us and start to feel like yourself again.
At Northwest Michigan Health Services Inc., we understand how physical and mental wellness are related. In our approach, we serve the whole person through medical, dental and behavioral health services. Our behavioral health professionals provide individual therapy and also team up with our medical and dental care teams to assist patients in developing health improvement plans or effectively managing a chronic illness. Our patients are at the center of all we do, and we respect and respond to each health need with professional, compassionate and confidential guidance.
We help every patient bring wellness to life!
Most of all, we bring a positive attitude and approach to health care by helping patients overcome barriers as needed. Our passion for helping people drives our response to changing needs in our community.
Don't have health insurance? We support patients with a sliding fee program, discounted drug program and insurance enrollment to make care possible, whether underinsured or uninsured.
Not sure how to meet daily needs—food, housing, transportation, education, etc.—we help patients apply for services or resources in our surrounding community. For each patient, we serve the whole person, aligning care to promote overall wellness.
Don't speak fluent English? We have interpreter services, along with some bilingual staff, to help you understand your health care journey, and to ensure you feel understood.
Behavioral Health Services
Depression and Anxiety
Stress Management
Relationships & Life Adjustments
Help for People Struggling with Substance Use Issues
Coping with Chronic Illness
Developing a Health Improvement Plan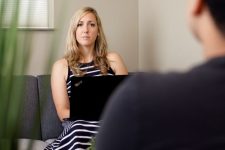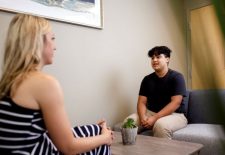 NMHSI Locations with BEHAVIORAL HEALTH SERVICES:
Traverse City | Benzonia | Manistee |Shelby
NMHSI BEHAVIORAL HEALTH PROVIDERS:
Jessica Wiemerslage, LMSW – Traverse City Health Center
Nadine Stark, LMSW – Traverse City Health Center
Amy Thomas, LMSW – Benzonia Health Center
Derrick Martinez, MSW – Manistee Area Public Schools
Ann Genson, LPC – Mason County Central Public Schools
Jennifer James-Witteveen, LMSW, IMH-E ® – Shelby Health Center