Consistent, quality medical care is within reach, for everyone.
With experienced providers and new health care technologies, we provide expert primary care services — when you need it. From preventive to chronic care, our providers work as a team to align care and connect patients to community services and supports.
We keep you connected with our coordinated care.
Most of all, we bring a positive attitude and approach to health care by helping patients overcome barriers as needed. Our passion for helping people drives our response to changing needs in our community.
Don't have health insurance? We support patients with a sliding fee program, discounted drug program and insurance enrollment to make care possible, whether underinsured or uninsured.
Don't live near our health center or have reliable transportation? We help patients find transportation options, and we have mobile clinics to bring quality health care into our surrounding communities.
Don't speak fluent English? We have interpreter services, along with some bilingual staff, to help you understand your health care journey, and to ensure you feel understood.
Primary Care Services
Physical Exams
Immunizations
Chronic Condition Management (RN Care)
Preventative Screenings
Women's Health Services: Gynecology/Contraceptive Services/Prenatal Care
Child Wellness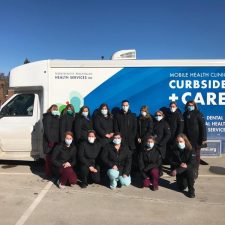 NMHSI Locations with MEDICAL SERVICES:

Traverse City | Benzonia | Manistee | Shelby
NMHSI MEDICAL TEAM:
Dr. Kathy Behler – Chief Medical Officer
Dr. Gwen Gravelie – Traverse City Health Center
Aimee Stahl, FNP – Traverse City Health Center
Cynthia Kienlen, RN Care Manager – Traverse City Health Center
Arminda Meza, FNP-C, AGNP-C – Traverse City Health Center
Hannah Wilson, PA-C – TCAPS Student Health Center
Beth Betten, FNP-C – Benzonia Health Center
Faith Kelley, FNP – Manistee Health Center
Marisa Herrera, FNP – Shelby Health Center
English Rex, FNP-C – Shelby Health Center