You can trust us for expert care.
From our experienced providers to new health care technologies, every aspect of our dental care is top-notch. We offer preventive and restorative dental services to everyone, pregnant women and infants. Our dental staff understand the importance of good oral health to overall wellness, and we want every patient to smile with confidence.
Most of all, we bring a positive attitude and approach to health care by helping patients overcome barriers as needed. Our passion for helping people drives our response to changing needs in our community.
Don't have health insurance? We support patients with a sliding fee program, discounted drug program and insurance enrollment to make care possible, whether underinsured or uninsured.
Need dental prosthetics—such as crowns or dentures—but can't afford them? We have a Dental Health Fund to support eligible patients with getting the prosthetics they need for good oral health and increased self-esteem.
Don't live near our health center or have reliable transportation? We have mobile dental clinics to bring quality health care closer to you.
Don't speak fluent English? We have interpreter services, along with some bilingual staff, to help you understand your health care journey, and to ensure you feel understood.
Cleanings
X-rays
Fillings
Crowns and Bridges
Dentures
Root Canals (limited)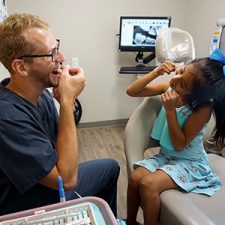 NMHSI Locations with DENTAL SERVICES:
Traverse City | Benzonia | Shelby
NMHSI DENTAL TEAM:
Dr. Kathryn Wynkoop Ikuma – Dental Director for NMHSI
Dr. Clinton Gore – Traverse City Health Center
Dr. David Velek – Traverse City Health Center
Sue Mick, RDH – Traverse City Health Center
Lynn Radtke, RDH – Traverse City Health Center
Dr. Kashif Naqvi – Benzonia Health Center
Kylie Mix, RDH – Benzonia Health Center
Nicole Shively, RDH – Benzonia Health Center
Dr. Ramandeep Jhandi – Shelby Health Center
Shannon Larson, RDH – Shelby Health Center
Mark Ramthun, RDH – Shelby Health Center